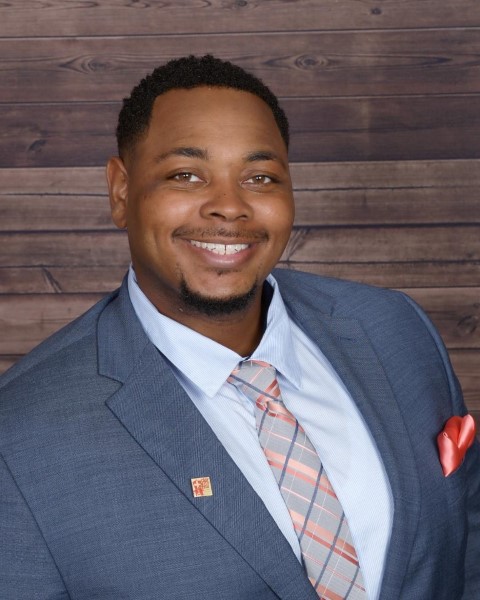 The Reverend Lynwood Clinton Spell is a native of Richmond, Virginia. He is humbled and excited that The Lord God has chosen him to serve in His vineyard at Star Hill Baptist Church.
​Since the age of 13, Reverend Spell has been preparing for pastoral ministry. He was 9 years old when he made the decision to follow Christ. Although he is not the son of a preacher, nor the grandson of a preacher, the calling on his life was evident to his pastor and the elders of his home congregation in Richmond, The Mt. Hermon Baptist Church. Only a few people at the time questioned him when he accepted his call into the ministry. Despite those few, his pastor, The Reverend Dr. Gregory Jerome Fisher, allowed Pastor Spell to preach his trial sermon. The sanctuary was filled as people came from far and wide to hear a 14-year-old young man preach the Word of God for the first time. The congregation glorified God and praised His Holy name having heard Pastor Spell preach his first sermon. After the report, Dr. Fisher and the Mt. Hermon Baptist Church Licensed Rev. Spell to preach the Gospel of Our Lord and Savior Jesus Christ in February of 2004. In August of 2013, Dr. Fisher, a council of clergymen, and the Mt. Hermon Baptist Church ordained Rev. Spell to Pastoral Ministry.​
Pastor Spell was in 8th grade when he was licensed to preach. He quickly learned that the calling to serve God was at the same time a calling to stand-out in the world. Although just a teenager, Pastor Spell showed the brilliance of God's glory at work in him. He was honored to be guest preacher at many youth revivals and youth worship events throughout the state of Virginia. Furthermore, in every pursuit beyond the pulpit, Pastor Spell was successful. By the time he was ready to graduate High School, Pastor Spell had earned several full-ride athletic and academic scholarships. By his senior year in High school, he represented well the state of Virginia and City of Richmond in several national student conferences, even winning 1st place in a national public speaking competition. In 2008, Pastor Spell graduated from Richmond Community High School, a magnet school ranked in the Top-100 High Schools by The U.S. News and World Report. He was also an award-winning football player at John Marshall High School, earning All-District honors his junior and senior years.
Despite earning a completely free college education, The Holy Spirit led Pastor Spell to attend the only school that offered him little to no financial aid. Albeit unwise in the eyes of the world, Pastor Spell gladly forsook opportunities to attend college for free and play football by accepting the challenge to major in Religion at Morehouse College in Atlanta, Georgia. In the Fall of 2012, Pastor Spell graduated with honors from Morehouse College. continued his education in pastoral ministry at Princeton Theological Seminary. In May 2017 he earned a Master Degree of Divinity and a Master of Arts in Christian Education.
At this point in his journey, Pastor Spell has worked with several different churches, non-profit organizations, academic institutions, homeless shelters, and community centers. He has served officially as Youth Director at New Brunswick United Methodist Church and Associate Pastor at First Baptist Church Princeton, along with several other churches across the United States.
Pastor Spell is assured that the highest life calling, or pursuit is found only in the service unto God in the church of Jesus Christ. No worldly accolade, position, or title can ne'er compare with the great privilege of serving The Lord in His vineyard. Pastor Spell aspires to ever-be a man after God's own heart; Jeremiah 3:15– "And I will give you pastors according to Mine heart, which shall feed you with knowledge and understanding